Care Fair Tempe
Sometimes we are those who need some extra help, sometimes we are helping others and often we do both.
Care Fair Tempe 2019
Get Help.  Give Help.  Get Connected.
Tempe Human Services Day
Saturday, April 6
9:00am-2:00pm
Tempe Library Complex
3500 S. Rural Road, Tempe
Join us for our second Care Fair Tempe as we host a fun and resource-filled event linking those in need with available services and those who care with volunteer opportunities
Over 50 local nonprofits and service providers will be on-site to provide information and answer questions about a variety of human services they offer and how you can help through volunteering and in-kind donations. 
Bring the family to visit resource booths, experience on-site services, play in the kid fun zone, grab a snack from food vendors, listen to music and enter into our gift card giveaways.  
This year we are partnering with the City of Tempe to present the inaugural Tempe Human Services Day.  While visiting Care Fair Tempe, plan to attend the Tempe Human Services Symposium in the Community Room of the Tempe History Museum.  There will be a line-up of specialists providing information in the fields of mental health and related topics such as substance dependence.    
Want to participate or help? 
Event Sponsor  – Sponsorship Details PDF
Provider Booth – Nonprofit/Service Provider Booth Packet PDF    
Food Vendor – Food Vendor Packet PDF
Event Volunteer  
Questions?
Contact cindy_kominska@tempe.gov or call 480.858.2300.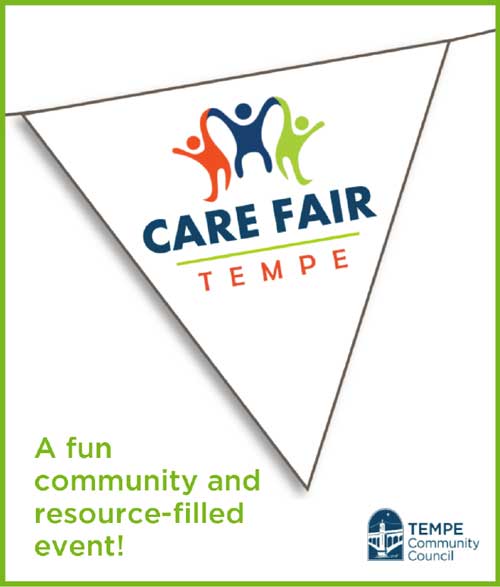 ---
Care Fair Tempe 2018
Event
Participants
Sponsors
Thank you!
Thank you to all who came out to our first Care Fair Tempe,on April 21, 2018.
Over 50 local nonprofits and service providers were in attendance to provide information about their organization and the services they offer Tempe residents. Over 250 community members attended the Care Fair, seeking information to help them or someone they know or obtaining information on volunteer opportunities and simple ways they can help their community by taking a tag from our event Giving Trees on small items our local nonprofits need.
Great music was provided courtesy of Mary Hoffman Music, Ioannis Goudelis, and April Anne Music with exceptional sound management by Dan Miller, of the Tempe History Museum. Local food vendors, a kids fun zone and free giveaways added to the festive fair setting. The community was connected with a low-cost produce resource, Borderlands – Produce on Wheels With Out Waste and ASU School of Sustainability – who partnered with us to offer attendees up to 60 lbs. of produce for just $10. POWWOW is a resource available in Tempe and through the Valley on various weekends, September-May.